Our selection WOOL & CO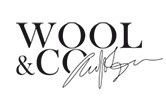 WOOL & CO
WOOL & CO is the young and more informal line of WOOLGROUP which also includes the DANIELE FIESOLI brand.
WOOL & CO: 101 ways to improve your knitwear! So lots of imagination, so many colors, various types of wool, cottons and other natural materials;
WOOL & CO is contemporary and not just fashion. WOOL & CO all MADE IN ITALY knitwear.